Barrie Colts Christmas Cheer Home Game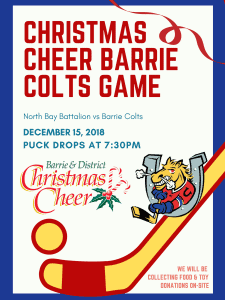 The Barrie Colts have again decided to allow Christmas Cheer Barrie to promote the local charity by donating an entire game in their name. Thank you, Howie and the Colts for this support.

If you would like to support Christmas Cheer please bring a new, unwrapped toy, food, or cash donation to the game on Dec 15th. We'll see you there!

Big 101 will also be there supporting the cause.