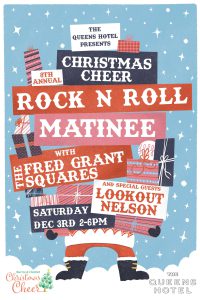 SAVE THE DATE: Our amazingly talented friends, The Fred Grant Squares are hosting their 8th annual Christmas Cheer Rock n Roll Matinee on Saturday Dec. 3 from 2-6 p.m at The Queens Hometown Pub and Grill.
This event is absolutely free, but we will be collecting new, un-wrapped toys and your monetary donations at the door for Christmas Cheer!
This is such a fun afternoon and we hope you are able to get into the Christmas spirit with us as we rock out to some amazing music and enjoy delicious food and drinks!