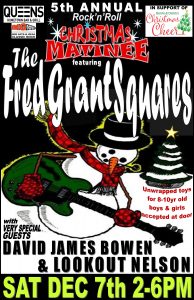 Come join in the fun! This show is always a hit each and every year. The Fred Grant Squares & friends, plus special guests, 
David James Bowen and Lookout Nelson,
 will be performing a Rock 'n Roll Christmas Matinee at the Queens Hotel on Dunlop Street on Dec. 7th. 
Please bring an unwrapped toy for 8,9 & 10 year old boys and girls, or  they will be accepting cash and gift card donations at the door.
We hope to see you there!